Nestled in the southern fringes of Kuala Lumpur on 118 acres is Gita Bayu, a gated and guarded homestead development. Set within an enchanting tropical enclave featuring manicured lawns and shady trees,  it is a sanctuary for those coming from the concrete jungle of Kuala Lumpur City.
The central landmark of Gita Bayu is its clubhouse Kebun Mimpi, a pavilion styled clubhouse built on the fringe of a lake and a park set within the heart of the development. The tropical-inspired clubhouse for the residents was designed by two world-renowned resort designers – Lek Bunnag and Bill Bensley from Thailand and United States respectively.  It is one of the most unique custom-built clubhouses in this region and boasts of a two-story dining pavilion, a multi-purpose pavilion, a lap pool, tree-sculptured wading pool with a view of a lake among others.
The Bungalow A73 is a symbol of exclusive craftsmanship, tucked away within the residential hub of Gita Bayu.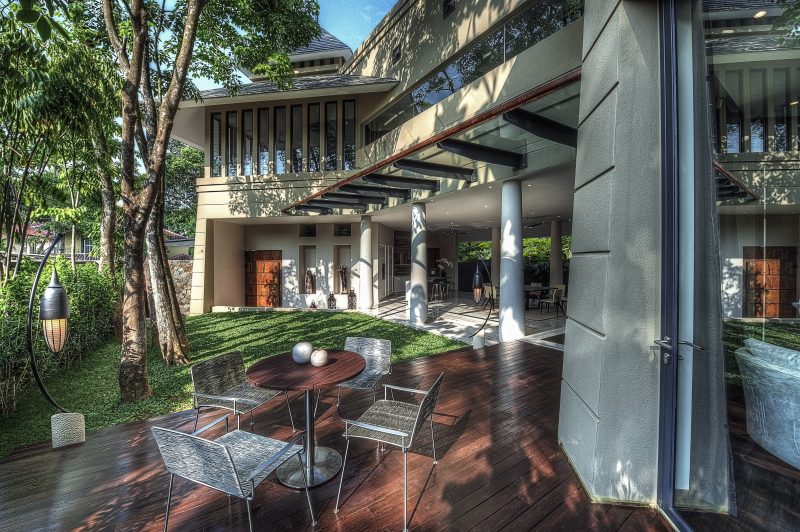 The Bungalow A73 has five bedrooms and five bathrooms features a modern tropical design with an open living concept in harmony with the rich and lush greenery surrounding it.
The guest room and living room /lounge area are positioned on ground floor as well. The first floor is lavished with two master bedrooms and two rooms for comfortable living and privacy.
The Bungalow offers a retreat in the pool on the second floor.
The unobstructed open concept reflects contemporary fluidity, promoting a peaceful and relaxing environment.
This home is listed for 5 million RM ($1.2 million)  with Rahim & Co., an affiliate of Luxury Portfolio International®.