With December flying by us at lightning speed – I think it caught everyone by surprise this year – and families scrambling to squeeze in favorite Christmas traditions and past times, don't forget to go to the New York Botanical Garden's annual Holiday Train Show. The Botanical Garden is celebrating its 125thAnniversary this year, and with that comes a special year for the train show – additional exhibition space, including new trains, bridges and tracks.
We go to the train show (located in the Enid A. Haupt Conservatory) every year, and almost passed it up this year to take a break, until my brother reminded me that it's NYBG's 125th. I'm so glad we went. It's always a beautiful show, with meticulously crafted trains, tracks, landmarks and other sites, all made out of bark, leaves, pine cones and other natural materials – a true "wonder" of a site; the artistry behind it is amazing. My mom, who was born and raised in New York, loves going to this show every year just to marvel at all the famous landmark miniatures, taking in the history of the city as she wanders around from track to track. And the kids, well of course this is train heaven for them! And this year, with the added space and almost a ½ mile of tracks to explore, there are a lot of trains for the young ones to watch mesmerizingly, waiting for the next one to zip by.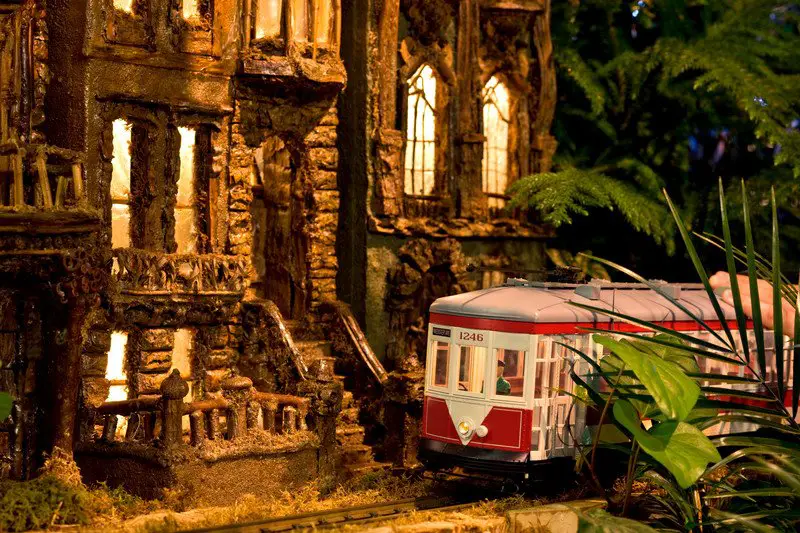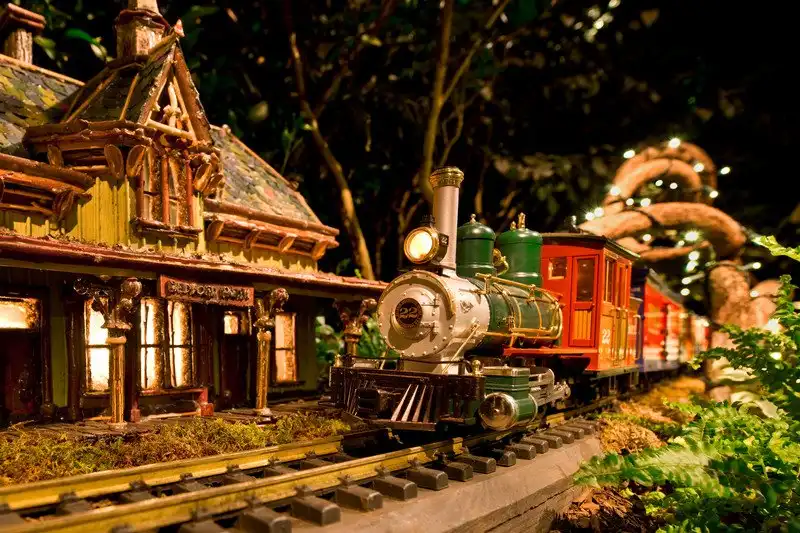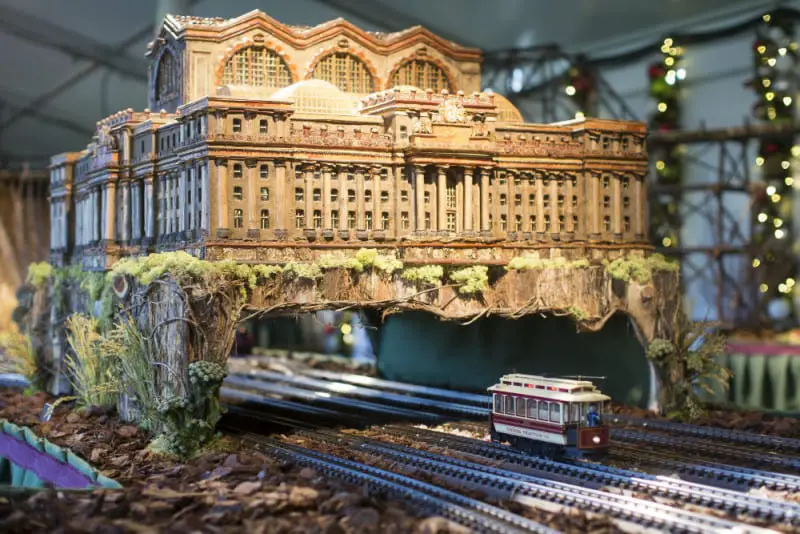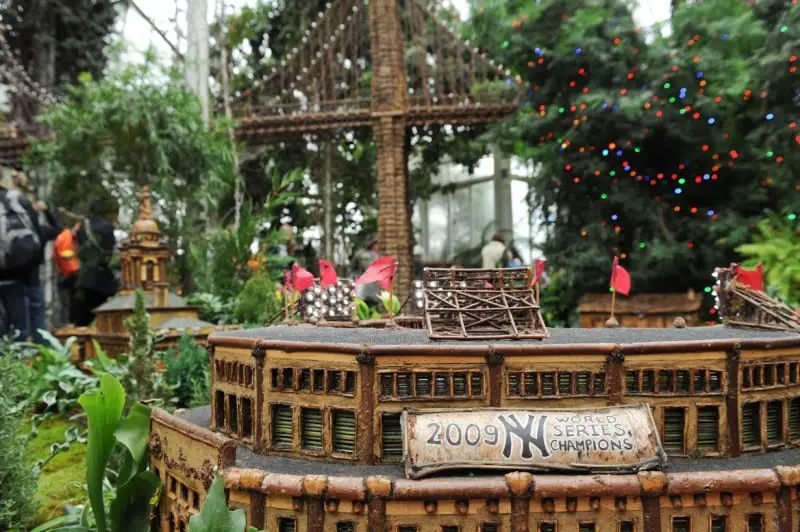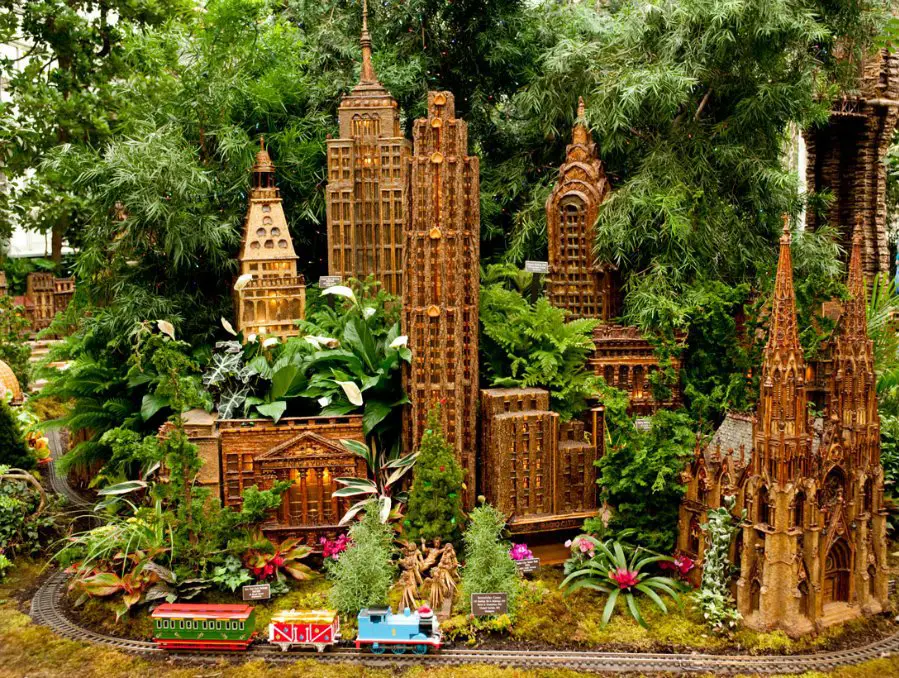 There are 150 Landmarks to see – from Rockefeller Center to the Brooklyn Bridge to (the original) Penn Station to Yankee Stadium to the Empire State Building. This year's exhibition features 3,000 square feet of additional exhibition space, making room for dozens of new trains, bridges, and tracks; a captivating short film of the show's behind-the-scenes magic; and a stunning multisensory finale of light and sound. It's a stunning show, and fascinating for all ages. If you can't make it this month, no worries! – it's open until January 18th. Tickets are $20 for adults and $10 for kids ages 2-12 (under 2 free) during the week days, and $30 for adults, $18 for kids ages 2-12 during weekends. For Members, which we are, the show is free. Might I add that if you're not a member and live in the area, you may want to consider purchasing a membership, which is almost the same price. Also, it's best to reserve tickets in advance online to avoid potentially long lines.
Finally, don't forget to hit the Gift Shop on your way out. It's a fabulous shop, especially this time of year, with delicious looking holiday décor, and a great kids section. It's one of my favorites. Whether you're in your 80's or in your toddler years, the NYBG's Holiday Train Show will not disappoint!
2015 train show facts:
— All displays can be seen from 360 degrees
— 25 large scale model railway trains and trolleys
— Some trains are 2 feet long and weigh as much as 10 pounds
— More than 150 replicas in the train show
— Finale includes sound and light display in the Reflecting Pool in the Palms of the World Gallery
New York Botanical Garden, 2900 Southern Blvd., Bronx, New York, 10458
This article was originally featured on GoodLife Report. Reprinted with permission.
GoodLife Report
Whit Cook is the Founder/Publisher of GoodLife Report (GLR), a lifestyle website geared towards men and women who like unique products and experiences. GLR editors have written for prominent publications and web sites including Wine Spectator, Cigar Aficionado, Travel+Leisure, Conde Nast Traveler, Huffington Post, Men's Journal and Pursuitist.