Food is to New Orleans what wine is to France: the city is celebrated worldwide for its delicious albeit unwholesome cuisine. A plethora of restaurants exist at which to enjoy Creole and Cajun cooking. Picking the city's best poses a challenge especially after eating one's way to a larger dress size. But here are several standouts. Important caveat: few options exist for vegetarians. Always ask your server for non-meat options as that bowl of rice and beans invariably contains ham.
Café Fleur-de-Lis: Named after the symbol of New Orleans, Café Fleur-de-Lis is the place to get breakfast in the French Quarter. Guests wait in long lines to order from a delicious menu of local favorites including seafood omelets oozing with crawfish and shrimp, ham-filled muffaletta sandwiches and gut-busting "everything" hash browns. The last overflows with bacon, sausage, ham, cheese and country gravy and is immensely satisfying. Remember to wear elastic-waist pants.
Café Fleur-de-Lis
307 Chartres Street
New Orleans, L.A. 70130
504/6551806
Cochon: The name—the French word for pig— says it all. From fried boudin to Lousiana pulled pork, Cajun eatery Cochon has pork lovers covered. The boudin balls are served with stone ground mustard and pickled peppers that are the most lovingly made finger food in the history of mankind. The Lousiana cochon is a $22 plate of pulled pork that may not make intuitive sense—cheaper versions are almost as good— but chef Stephen Stryjewski's attentiveness turns the dish into a white table cloth entrée good enough to name a restaurant after. But the real star of the dish is the cracklins. If Cochon wanted to, it could have an instant, multi-million dollar side business selling these lightly fried crispy pork rinds by the bag. Diners can take home slabs of bacon and pounds of andouille sausage at the restaurant's butcher shop next door even if the cracklins aren't for sale.
Cochon
930 Tchoupitoulas Street
New Orleans, L.A. 70130
504/588-2123
Emeril's Delmonico: Emeril Lagasse is neither Creole nor Cajun but the famous chef cooks some of the most authentic examples of both. While his Emeril's New Orleans gets most of the tourist dollars, Emeril's Delmonico is his true homage to Creole cooking. Start with the marinated golden beets with homemade yogurt, pinenuts and date molasses. It's a unique but flavorful combination and I wish I had ordered two servings of it. The crispy pork cheek is a menu standout. Kudos to Lagasse and chef de cuisine Spencer Minch. Served over rich, semi-spicy Creole dirty rice, it's tender and succulent and probably the most delicious pork dish my companion has ever had. Steaks are dry-aged in house so make sure to order one and pair it with a Shiraz or Cabernet Sauvignon from the restaurant's extensive wine list.
Emeril's Delmonico
1300 St. Charles Avenue
New Orleans, L.A. 70130
504/525-4937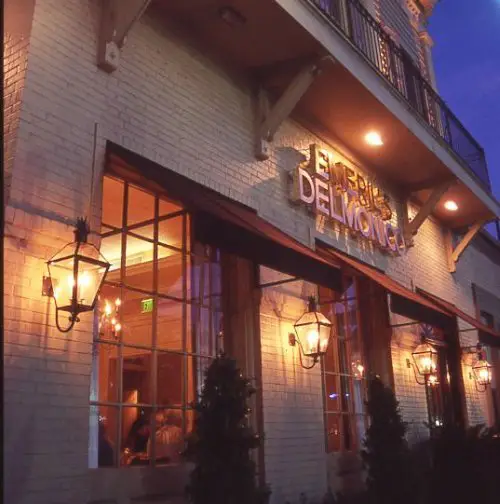 5 Fifty 5: A great restaurant at the Marriott hotel? Balderdash, you say! But it's true. Utilizing fresh ingredients and local produce, executive chef Mark Quitney creates some of the tastiest charbroiled oysters and flavorful fried green tomatoes this side of the Mississippi. Don't forget to try the lobster macaroni and cheese with a side of Abita beer-battered onion rings. Diet be damned!
5 Fifty 5
555 Canal Street
New Orleans, L.A. 70130
504/553-5638
Lil Dizzy's Café: Soul food is a Southern staple and New Orleans has its fair share of soul food hangouts, the best of which is local favorite Lil Dizzy's Café. Go on Sunday for the affordable brunch buffet. You'll rub shoulders with diehard Saints fans and dine on a variety of authentic Southern food such as fried chicken, grits, hot sausage and some of the best gumbo around.
Lil Dizzy's Café
1500 Esplanade Avenue
New Orleans, L.A. 70116
504/569-8997
Mahony's Po-Boy Shop: You can't go to New Orleans and not indulge in a po' boy. Mahony's Po-Boy Shop deep in the Garden District has some of the best fried sandwiches in New Orleans. There's the pot roast beef po' boy and the fried chicken liver and creole slaw po' boy. If you want something over the top try "The Peacemaker." It's a fried oyster po' boy covered with bacon and cheddar cheese. If you're not that adventurous, a classic catfish po' boy is mouthwateringly delicious. Prices are a little steep for what is essentially New Orleans street food and service can be very spotty, but you won't regret the long walk from the Quarter.
Mahony's Po-Boy Shop
3454 Magazine Street
New Orleans, L.A. 70115
504/889-3374
This article was originally published on GoodLife Report and has been republished by Pursuitist by permission of GoodLife Report
Shandana A. Durrani
Shandana A. Durrani has been a magazine editor and travel writer in New York City for 19 years. Her work has appeared in numerous publications and websites including Condé Nast Traveler, Glamour, Cigar Aficionado, Wine Spectator, Silverkris, Haute Living, NYMag.com, Jetsetter.com and Justluxe.com. She is the author of "Day Trips from New York City" and the co-author of "Insiders' Guide to New York City."