In the book The Big Oyster, Mark Kurlansky writes "before the 20th century, when people thought of New York, they thought of oysters."  Though that sentiment along with New York's oyster population has diminished over the past two centuries with the city's drastic growth, oysters are currently making a strong comeback in Mahattan via the Oyster Restoration Research Project. At a handful locations around New York, these once prevalent mollusks are being reintroduced into waterways like the Gowanus Canal where they act as natural filters, removing decades worth of toxins and other pollutants. While oyster-tecture, as it's come to be known, is improving aquatic habitats around the city, the most coveted oyster varieties from both North American coasts are appearing on the menus of Manhattan eateries in fresher, tastier and more robust selections than ever before. Here's our list of top eateries in NYC shucking these delicious and ecologically powerful bivalves, and more.
Upstate
95 1st Ave
New York, NY 10003
While the space inside this East Village eatery may be small, Upstate offers one of the largest assortments of east and west coast oysters available in NYC. From the Long Island Sound to the Puget Sound, Upstate's friendly and knowledgeable staff will be happy to guide you through their vast medley of shelled delicacies. Whether you prefer briny, coppery, milky, or floral – or haven't the faintest idea what any of that means – they'll help you mix and match over 20 oyster varieties with their similarly impressive selection of craft beers. Come during Happy Hour, and $12 will get you a pint and six oysters. And if that's not enough to entice you, Shane Covey, Upstate's genial and gracious owner, will swing by at the end of your meal and give you a piece of whiskey cake made by his wife.
Mermaid Inn
79 MacDougal St
New York, NY 10012
In months that end in "R", Happy Hour and a Half at Mermaid Inn is where oyster fans need to be after work. On certain fall week days, this whimsical Greenwich Village restaurant serves  $1 East Coast oysters & $1.75 West Coast Oysters as well as $5 beers, $6 glasses of wine and $7 cocktails. Everything you need to know about oysters is at your fingertips with the Mermaid Inn's own Oysterpedia app, which you can use to pinpoint just the type of oyster you're seeking from the Mermaid Inn's plentiful bicoastal selection.  Or, you could splurge and order the Grand Platter ($69) – six east coast oysters, six west coast oysters, six littleneck clams, shrimp cocktail, half a lobster and crudo. As if you needed another reason to come here, The Mermaid team is big on paying it forward – they're involved in a number of microfinancing projects both locally and globally through Kiva.org. They also have locations in the East Village and the Upper West Side.
The John Dory Oyster Bar @ The Ace Hotel
1196 Broadway
(between 28th St & 29th St)
New York, NY 10001
Neighborhoods: Midtown West, Flatiron 
French poet Léon-Paul Fargue once wrote that eating an oyster was "like kissing the sea on the lips," and once you taste John Dory Oyster Bar's exclusive selection of genuine South Bay bluepoints, you'll probably want to kiss the sea – particularly the briny South Bay of Long Island – over & over again. Oysters here are $3 a piece, but if you come during their two hour happy hour (5pm-7pm) you can enjoy a half dozen oysters (or clams) plus your choice of a pint of oyster stout ale or sparkling wine for $15.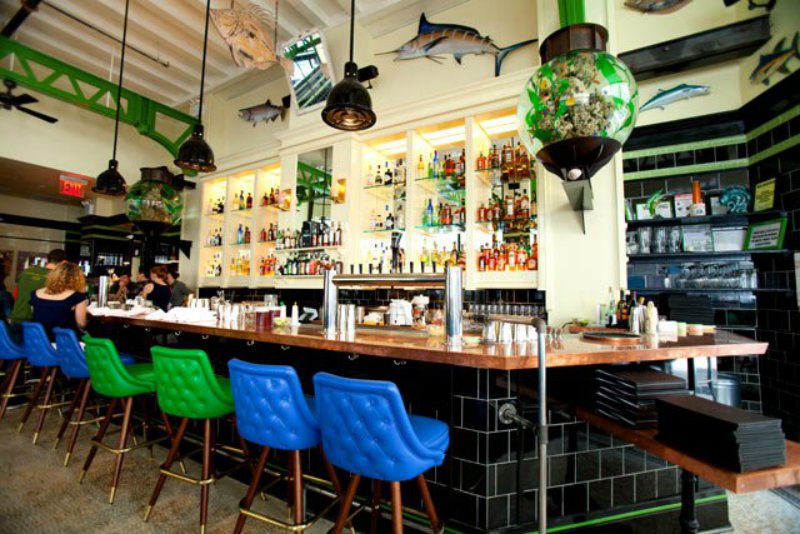 Blue Water Grill
31 Union Sq W
(between 16th St & 17th St)
New York, NY 10003
Union Square
A Union Square institution, Blue Water Grill has been serving top-rated seafood along with live jazz for nearly twenty years. Oyster varieties like Blue Island, Mermaid Cove and Kusshi make perfect precursors to impeccably fresh sushi and beloved dishes like the Chilean seabass. Sample them individually or order a shellfish tower if you're feeling ambitious – it includes east and west coast oysters with Maine lobster, red king crab, jumbo shrimp, littleneck clams, ceviche, and marinated Prince Edward Island mussels.
Ed's Lobster Bar
222 Lafayette St
(between Kenmare St & Spring St)
Owned by New York native Ed McFarland, a veteran of the West Village's legendary Pearl Oyster Bar, this SoHo restaurant juxtaposes a casual clam shack feel with an impressive and high-priced raw bar. While the fresh Maine lobster rolls ($28) are the stars of the show, the oysters – particularly in shooter form – make the perfect appetizers. The tuna tartare is a must try as well. If you're a locavore, be sure to visit in the spring & summer months when Ed incorporates his own locally grown vegetables and herbs into the menu.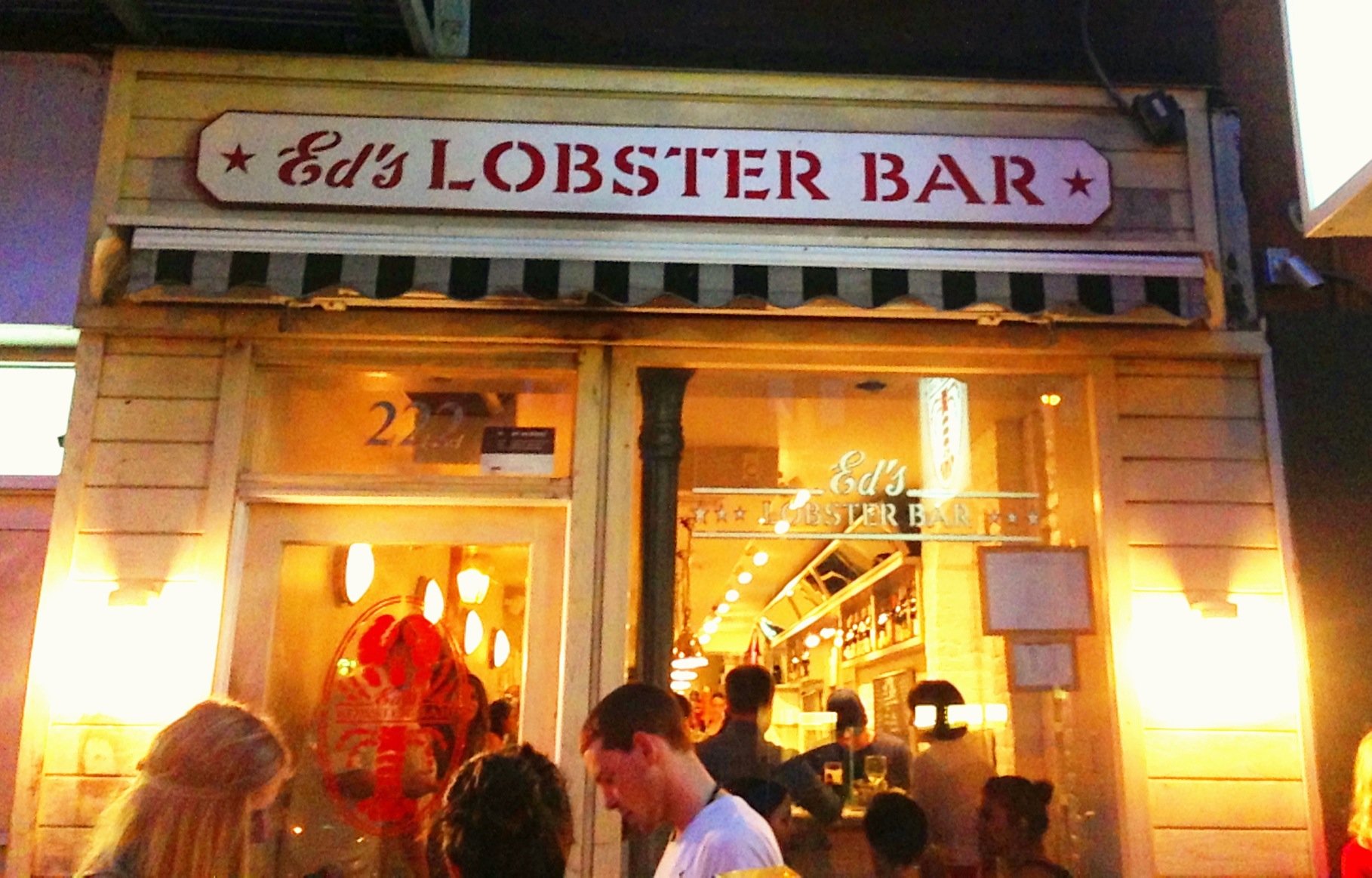 Aquagrill
210 Spring St
(between Sullivan St & Avenue Of The Americas)
New York, NY 10012 
The venerable Aquagrill is home to one of NYC's most renowned raw bars. Consistently ranked as a top seafood spot in Manhattan, the restaurant's tremendous oyster selection offers somewhere between 25 and 30 varieties of oysters, making it an oysterfile's Manhattan mecca. You can pick and choose your favorite oyster types from the daily specials menu or consult the friendly and knowledgeable servers who can make suggestions from an enticing collection that includes  Wellfleets, Kumamotos, and Raspberry Points. Come here for oysters and drinks or stay for dinner, where the meal ends with complimentary cookies.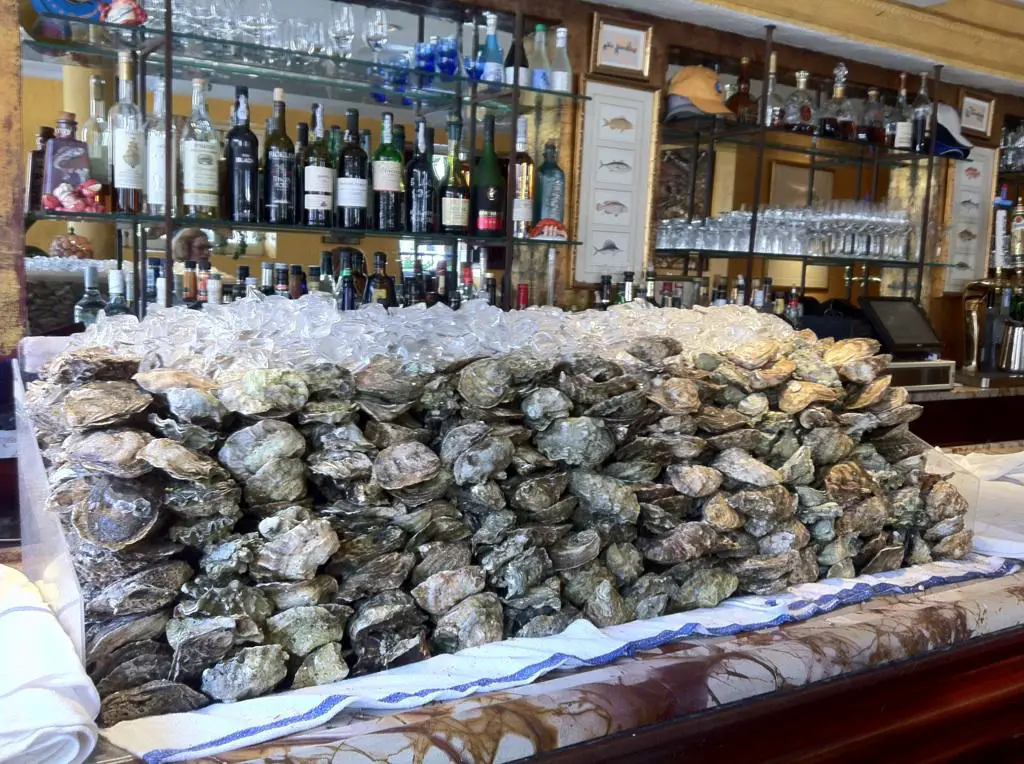 *In addition to restaurants, oyster connoisseurs should check out this comprehesive list, compliments of Harbor Island Oyster Co., of oyster festivals happening in the New York area and beyond this fall. 
The Best Raw Bars In New York was originally featured on GoodLife Report. Reprinted with permission.
GoodLife Report
Whit Cook is the Founder/Publisher of GoodLife Report (GLR), a lifestyle website geared towards men and women who like unique products and experiences. GLR editors have written for prominent publications and web sites including Wine Spectator, Cigar Aficionado, Travel+Leisure, Conde Nast Traveler, Huffington Post, Men's Journal and Pursuitist.