Now, of course, we realize that you are probably not flying off to exotic vacation locales just so you can go to a gym. But what about those folks for whom traveling is a job requirement? Business travelers are barely in any one place long enough to do so much as a push-up before they're jetting off to the next meeting. The following are, as rated by A.T. Kearny (and referenced by Bloomberg Business), the top five "Global Cities" (the hubs where most business travelers ply their work) and the best hotel gyms therein.
1) New York
The Mark
The native habitat of the supermodel, travelers to the Big Apple have a cornucopia of gyms to choose from, but why spend your en perdiem bucks on a day pass? Located just a couple blocks from both Central Park and the Met in New York's classy Upper East Side, The Mark is a luxury, boutique hotel—and given the limited space, they take a smart approach with their gym. Rather than settle for a treadmill and some free weights, guests here instead can avail of personal training from renowned fitness expert, Dan Flores opt for one-on-one personal training with kickboxing and MMA pros from Punch Fitness, an organization founded by former national kickboxing champ Adelino DeCosta. Up-to-date equipment and real pros at the ready to help you train will keep your figure in shape even if the economy's isn't.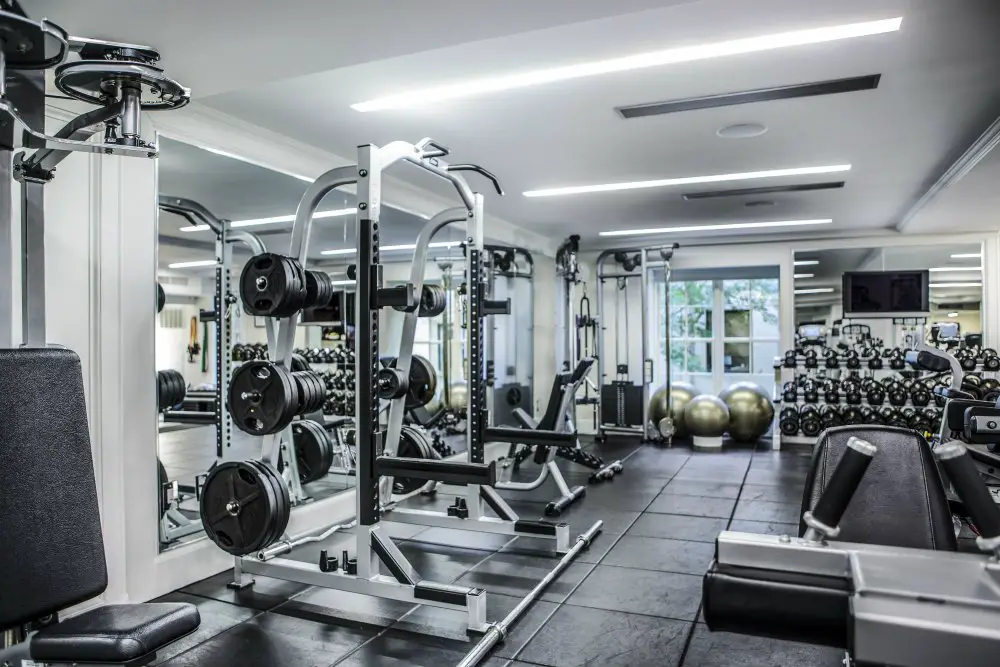 2) London
The eurozone may bristle, but London remains Europe's premier financial capital. Open seven days a week and boasting state-of-the-art facilities, the Carlton Tower's world-class health club offers spectacular London views. A fully equipped gym, aerobics studio, sauna, steam room, a state-of-the-art golf simulator, award-winning spa and a 20-meter indoor stainless steel swimming pool will work off all those fish-and-chips you plow down. Guests also have access to tennis courts set in private gardens in Cadogan Square.
3) Tokyo
When was the last time you saw an overweight Japanese person outside of a sumo wrestler? This is a fit country, and the Park Hyatt knows it. The gymnasium and aerobics studio flank either side of the pool on the sky-lit and sky-scraping 47th floor of the hotel, giving jaw-dropping views of the Tokyo cityscape and the sacred slopes of Mt. Fuji. The gym is equipped with a complete range of LifeFitness weight training and fitness equipment, and personal fitness trainers assist guests and members, going so far as to tailor fitness programs to each individual's needs. Of course, you can always just do some laps too. The pool is amazing.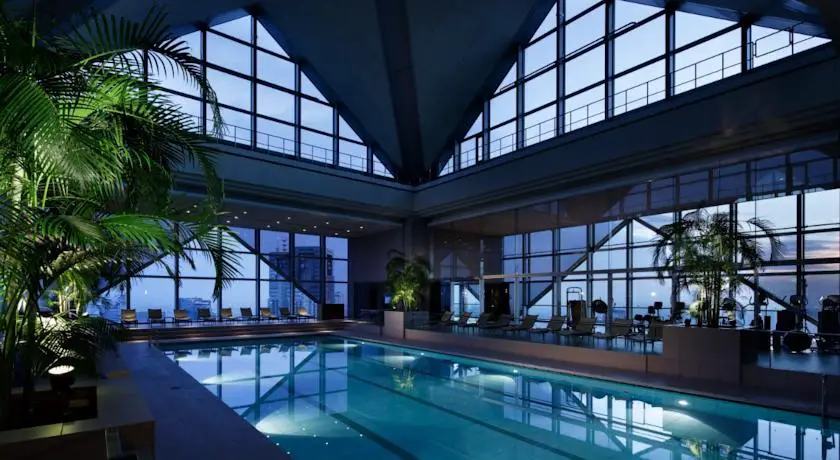 4) Paris
Gyms do tend to be a little utilitarian in their look, BUT THIS IS PARIS. Synonymous with Parisian glamour right down to the fitness center, Ritz-y visitors of the hotel's gymnasium step into a facility with the sumptuousness of the Roman Empire and the technology of Cape Canaveral. If you're serious about getting your workout in, why not go to the place billed as having the finest indoor pool in the city and fully decked 1,700-square-meter gym with personalized training regimes? Wrap it up with a massage and feel like the in-shape bon vivant you are.
5) Hong Kong
The biggest neon-spangled jewel in China's growing crown, Hong Kong still outpaces Shanghai and Beijing in business. Keep that healthy stride going at Langham Place's 12 state-of-the-art cardiovascular machines, 10 strength machines and a fully stocked array of free weights and accessories. Open 24 hours, the gym features Taekwondo, mat exercises and a regular ab workshop run by the on-staff trainers. There is even a mediation corner to contemplate your disturbingly hot body. 
This article was originally featured on GoodLife Report. Reprinted with permission.
GoodLife Report
Whit Cook is the Founder/Publisher of GoodLife Report (GLR), a lifestyle website geared towards men and women who like unique products and experiences. GLR editors have written for prominent publications and web sites including Wine Spectator, Cigar Aficionado, Travel+Leisure, Conde Nast Traveler, Huffington Post, Men's Journal and Pursuitist.