1,000 acres—3 Deluxe Hotels—2,300 rooms—100,000 square foot casino —8 Pools—30 Bars—42 Restaurants—$4 Billion in total cost
These are just some of the staggering statistics that accompany the newly opened, much ballyhooed, longtime-in-the-making mega resort Baha Mar in the Bahamas—which was famous long before it ever opened due to multiple bankruptcies, a revolving door of owners, and the now well documented, stutter-step fashion in which it was conceived and ultimately built. Needless to say the road to opening this resort was a bit bumpy—and very long.  How long? We'll get to that in a sec.
Putting past follies aside, just the sheer size of Baha Mar should give any prospective guest some pause, even now that they have finally opened.  After all it is by far the biggest resort in the Bahamas, easily surpassing the other mega resort on the island of New Providence, The Atlantis (in acreage). And large masses of people on Bahaman islands haven't exactly had a great track record of late (see Fyre Festival). Yet so far, despite the circus that ensued while trying to open the resort, I am hearing great things from people in the industry and guests who have stayed there.
Baha Mar Aerial View
Truth be told, I thought about writing on Baha Mar several years ago when it was nearing completion—but then it stalled. And then it went bankrupt—again. And a bevvy of other drama ensued from the local Bahamian workers not getting paid to 4,000 Chinese workers being flown in to help build it—much to the local worker's chagrin—and many, many other things in between.
In fact the timeline of this mega resort is a story unto itself. Here is just a quick snapshot of how and when this resort came to be, courtesy of Hotel News Now. Yes, this timeline started nearly 20 years ago.
Early 2000s— After talking American investor Phil Ruffin into buying a large swathe of Cable Beach in Nassau, Bahamas, in the 1990s, new Bahamian Prime Minister Perry Christie convinces him to sell off the land, including multiple hotels, to a development group called the Baha Mar Development Company, which is led by Sarkis Izmirlian.
November 2005—The Baha Mar development is officially announced as a $1.6-billion joint project with Izmirlian's group, Harrah's and Starwood Hotels & Resorts Worldwide. Ground is set to break in 2007 with an expected opening in 2010.
21 February 2011— Construction crews break ground on Baha Mar, almost six years after Sarkis Izmirlian purchased the property and months after developers had originally hoped to have it open and operating. The resort is now expected to open by the end of 2014.
2011-2014— With construction underway, resentment grows among Bahamians as roughly 4,000 Chinese workers are flown in to serve as construction crews on the resort. The project was sold as an economic driver for the Bahamas, so many in the country are unhappy to see a 70% foreign workforce building the resort complex while the Bahamas struggles with a unemployment rate of roughly 15%.
29 June 2015— With the resort estimated to be roughly 97% completed, Baha Mar Limited voluntarily files for Chapter 11 bankruptcy blaming "financial consequences of the repeated delays by the general contractor, and the resulting loss of revenue" as the reason for the bankruptcy.
20 August 2015— Rosewood Hotels and Resorts seeks to end its association with Baha Mar, saying the megaresort is tarnishing the hotel company's brand. Rosewood officials said they hope to use Baha Mar's U.S. bankruptcy proceedings as an out.
27 August 2015 — Baha Mar officials announced the filing of a Chapter 11 reorganization plan in U.S. bankruptcy court.
12 December 2016— Hong Kong-based Chow Tai Fook Enterprises announces the company has reached a deal to buy the stalled resort complex for an undisclosed amount. Along with that announcement comes news that the new ownership expects to complete construction and open the resort by April 2017, with an additional $200 million to be spent on "pre-opening activities."
28 February 2017 — Rosewood Hotels & Resorts, which is owned by Baha Mar buyer Chow Tai Fook Enterprises (and was previously looking to get out of the development), announces plans for the Rosewood Baha Mar to open in the resort complex in spring 2018 instead of 2017. Hyatt confirms plans for the Grand Hyatt Baha Mar to open in late April 2017.
21 April 2017— After years of waiting and multiple false starts, Baha Mar is finally operational, or at least a portion of it is. The first phase of the complex's "soft-opening" includes the 1,800-room Grand Hyatt Baha Mar, a 95,000-square-foot casino and an 18-hole golf course designed by Jack Nicklaus.
10 August 2017 — Baha Mar officials say their resort is now running at 50% occupancy with more than 2,000 Bahamians employed at the complex.
Fast forward to today and the colossal resort, despite all its baggage and moving parts seems to be growing into its own. Baha Mar opened in phases, starting with the Hyatt in April 2017, followed by the SLS in November 2017 and, most recently, the Rosewood in June 2018. Ironically, it is the Rosewood, the property that at one point wanted out, that is getting the ravest reviews of all. More on that.
The diversity of Baha Mar's offering is personified in its three hotels—each one designed for a different target audience. Dominating the resort visually upon approach are the two towers of its largest hotel, the 1,800-room Grand Hyatt Baha Mar. Tucked between the Hyatt and the beach are two much smaller hotels: the more upscale 299-room SLS Baha Mar and the even more upscale 237-room Rosewood Baha Mar.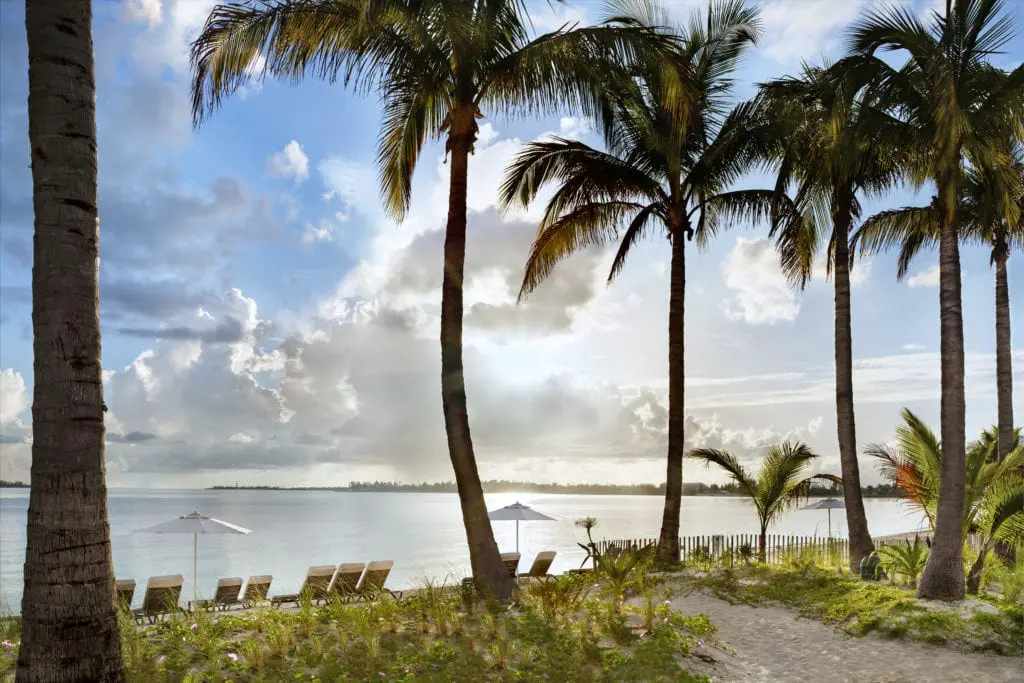 Rosewood Baha Mar Beach Access
The Hyatt is the largest of the three hotels and caters to a fairly diverse audience—demonstrated immediately upon entrance with two separate lobbies. The West Tower features a family friendly, sea-sun-and-sand theme and is convenient to the convention center while the East Tower appeals to casino-goers, including high rollers who likely will opt for accommodations on the seven-floor, all-suite section called The Reserve, which offers butler service, a private entrance and a VIP lounge.
BMDC Casino
The SLS Baha Mar and Rosewood Baha Mar also have different vibes and slightly different price points. The SLS is more style-centric—chic, with a large lobby and lobby bar, the Bond nightclub, and an adults-only pool that hosts private parties with a DJ. The Rosewood is more sophisticated and stately, with dark wood and marble-accented décor that evokes Colonial-era Bahamian elegance, afternoon tea service in the Library Lounge, and butler service.
Different tastes asides, the early favorite, based on reviews and correspondence from some industry insiders, seems to be the Rosewood which offers some of the largest suites on the island, providing guests with a luxurious, yet residential, experience. Amenities at Rosewood Baha Mar include four signature dining venues, designed to encourage fellowship among guests. These include Commonwealth, a farm-to-table restaurant with a private Rum Room for exclusive, island-style dinners; Costa, serving coastal cuisine with a Mexican twist in a contemporary outdoor setting; Manor Bar featuring classic cocktails in a refined setting; and The Library, an elegant spot to enjoy afternoon tea or a glass of champagne with a menu of sweet and savory pastries and desserts. Recreational facilities include Sense, A Rosewood Spa, state-of-the-art fitness center, two private swimming pools and luxury cabanas. Additionally, guests have direct and private beach access.
Rosewood's Rum Room Private Dining
"We are thrilled to open Rosewood Baha Mar and unveil a one-of-a-kind destination that celebrates the island's unique traditions and effortless elegance," said Luigi Romaniello, managing director of Rosewood Baha Mar. "We hope that when our guests arrive, they will feel as though they have arrived at their private vacation home, where they can share special moments with loved ones and create memories that will last a lifetime."
It will take some more years under their collective belts and guest feedback to really see how this venture is doing. The real test will likely come when the US and world economies begin to cool off— which is bound to happen if it hasn't already. That's when you can tell which resorts are built to last and which ones are riding the current good times. I think Baha Mar has staying power though. And despite its size, which does make it a bit less agile during tougher years, ultimately, it has a great selling point—something for everyone, in paradise. That is not something even the best resorts in the Bahamas and Caribbean can necessarily claim. Being able to choose between a beautiful white sand beach and turquoise water one day and the casino and choice of one of their 30 bars and 42 restaurants another day—or perhaps all in one day—is not a bad dilemma to have. It's kind of like a restaurant with many items on the menu. So long as the food is good it works and people appreciate the variety. If it's not good, the variety becomes confusing and cumbersome. As of now I think Baha Mar strikes a nice cord between opulence and elegance, despite its hifalutin underpinnings.  Ultimately more choices are better than less, so long as the execution is on point. In the hospitality industry, like most industries, execution is everything. I look forward to visiting.
GoodLife Report
Whit Cook is the Founder/Publisher of GoodLife Report (GLR), a lifestyle website geared towards men and women who like unique products and experiences. GLR editors have written for prominent publications and web sites including Wine Spectator, Cigar Aficionado, Travel+Leisure, Conde Nast Traveler, Huffington Post, Men's Journal and Pursuitist.